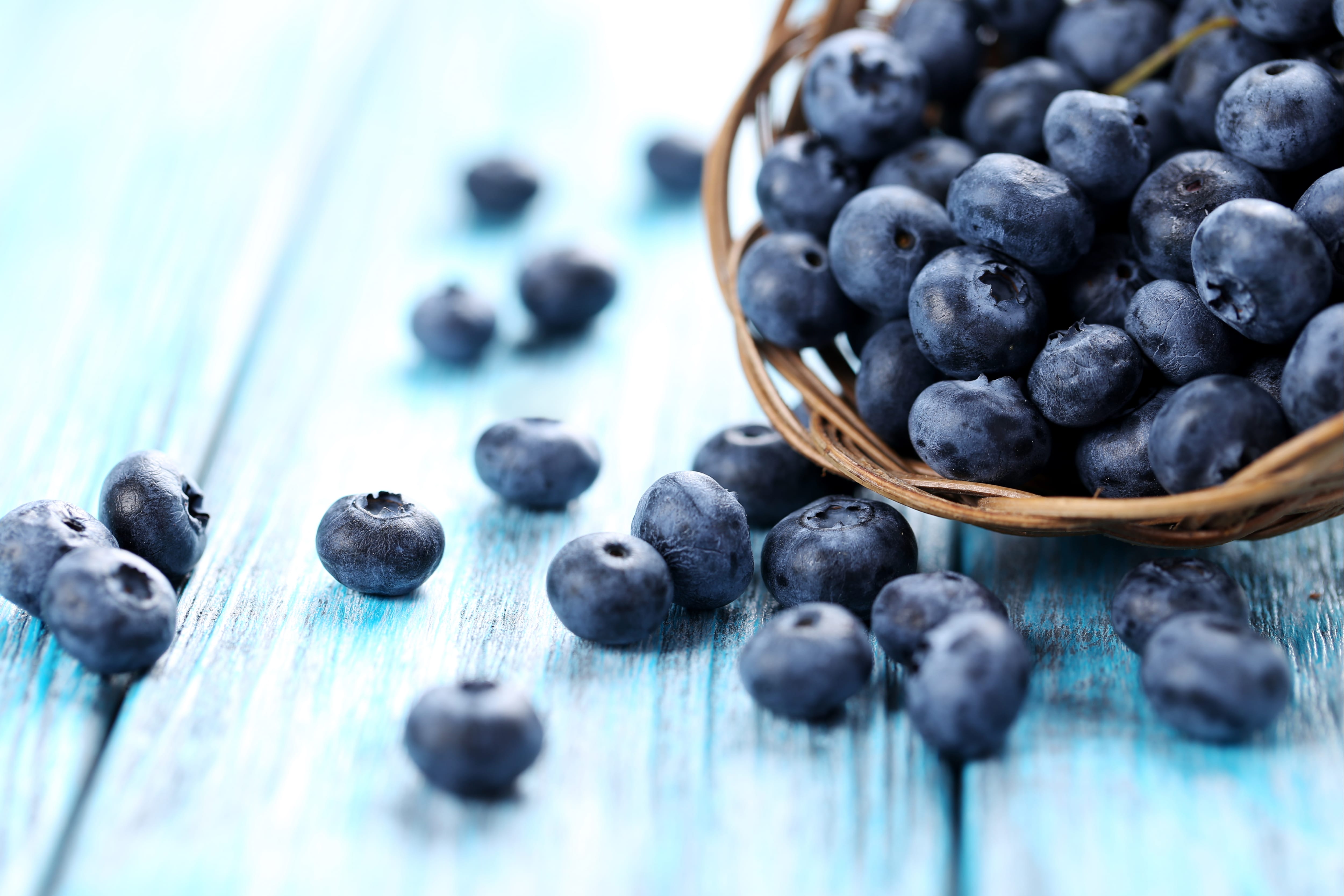 In July of 2003, the United States Department of Agriculture officially proclaimed July as National Blueberry Month in the United States! So, what does that mean? That you should celebrate by doubling, tripling, even quadrupling your typical blueberry consumption this month!
But, we understand that even though these delicious, poppable berries are a scrumptious treat, sometimes you want to spruce them up a bit. That's where your food-loving friends at Basket come in.
Here is our collection of blueberry-themed recipes, so that you can celebrate National Blueberry Month with a unique dish each week!
1. Blueberry-Dijon Chicken
We know, the first thing you think of when you hear "blueberry" probably isn't Dijon. But boy, should it be! These sweet and savory chicken breasts kick Blueberry Month off to an unexpectedly delicious start.
What You'll Need:
4 boneless, skinless chicken breasts
1/4 teaspoon salt
1/4 teaspoon pepper
1 tablespoon butter
1/2 cup blueberry preserves
1/4 cup fresh (or frozen) blueberries
1/3 cup raspberry vinegar
3 tablespoons Dijon mustard
Minced fresh basil (optional)
What to Do:
To begin, sprinkle chicken breasts with salt and pepper. In a large skillet, cook the chicken in butter over a medium heat for 6-8 minutes on each side, or until a thermometer reads 170°.
Remove the chicken from heat and keep warm. Then, in the same skillet, combine the preserves, vinegar, blueberries, and mustard, stirring to blend. Cook on low-to-medium heat. Once the mixture has come to a boil, stir until thickened.
When you're ready to serve, first plate the chicken breast and then drizzle with your blueberry-Dijon sauce. If you're feeling daring, sprinkle with basil for an extra pop of fresh flavor.
2. Blueberry Romaine Salad
This delicious summer salad is ideal for a quick lunch, a side with dinner, or even dinner itself when topped with additional protein. Plus, it's super-simple to make!
What You'll Need:
1 package hearts of romaine salad mix (or 1 medium head of romaine lettuce)
1 cup unsalted cashews
1 cup shredded Swiss
1 cup fresh blueberries
What to Do:
It's a salad – you know the drill! Clean your lettuce and toss in a large bowl with the remaining ingredients. For a zesty one of a kind dressing, whisk together these ingredients, adding the canola oil last:
1/3 cup white vinegar
1/4 cup sugar
1 tablespoon chopped red onion
2 teaspoons poppy seeds
1 teaspoon ground mustard
1/2 teaspoon salt
1/4 teaspoon pepper
Dash Worcestershire sauce
1 cup canola oil
Or, opt for a light vinaigrette, or even a Greek dressing to offset this salad's flavors.
3. Balsamic Blueberry Grilled Cheese Sandwich
Remember that shredded Swiss cheese you used in your salad? Well, break that bad boy back out – it's getting a new life in the form of a melt-y grilled cheese.
What You Need:
2 slices of bread (We recommend sour dough or plain old white)
1/2 cup shredded Swiss
Fresh spinach or arugula
1/2 cup fresh or frozen blueberries
1 tablespoon balsamic vinegar
1 1/2 tablespoons brown sugar
What to Do:
In a small saucepan, combine blueberries, sugar, and vinegar. Place on medium heat to slowly come to a boil. As your mixture heats, continuously stir, using a utensil to crush the berries. After the mixture has boiled for five minutes, pour it into a mesh strainer. This will allow juice syrup to separate from the solid berries (you can save the syrup for other recipes like pancakes or drizzled over ice cream!)
Next, spread your blueberries onto your bread, top with a layer of cheese, a handful of spinach, and more cheese. Add your second slice of bread and toast. Now, get ready to enjoy a fantastic blend of Blueberry Month flavor!
4. Slow-Cooked Turkey with Blueberry Compote
Have Thanksgiving in July with this scrumptious recipe. Better yet, you can always replace these compote ingredients with frozen fruits for a less expensive alternative.
What You'll Need for Turkey:
1 teaspoon salt
1/2 teaspoon garlic powder
1/2 teaspoon dried thyme
1/2 teaspoon pepper
2 boneless turkey breast halves (2 pounds each)
1/3 cup water
What You'll Need for Compote:
2 medium peeled and finely chopped apples
2 cups raspberries
2 cups blueberries
1 cup white grape juice
1/4 teaspoon crushed red pepper flakes
1/4 teaspoon ground ginger
What to Do:
Begin by rubbing the turkey breasts with salt, garlic powder, thyme, and pepper. Place in a 5 to 6 quart slow cooker and pour 1/3 cup of water around the turkey. Cook covered on low for 3 to 4 hours, or until a thermometer reads 165°. Upon removing the turkey from the slow cooker, tent it with foil. Let stand for at least 10 minutes (to let all those yummy juices settle!) before cooking.
As your turkey cools, combine your compote ingredients in a large sauce pan. Bring to a boil and reduce heat to medium, leaving to cook uncovered. Stir occasionally until slightly thickened and the apples are tender, approximately 15 to 20 minutes. Serve drizzled over your turkey or a mound of hot mashed potatoes. Voila – Thanksgiving in July!
5. Blueberry Dessert Pizza
If you thought we saved the best for last, you're probably right. This blueberry dessert pizza is everything we dreamed of and more.
What You'll Need:
1 12-inch thin pizza crust (pick it up right from the store!)
2 tablespoon butter, melted
1/4 teaspoon cinnamon
1 package of 8 oz. cream cheese, softened
1/2 cup butter, softened
1 teaspoon vanilla
3/4 cup powdered sugar
2 tablespoons brown sugar
1 can (21 oz.) blueberry pie filling
1 cup crushed shortbread cookies
What to Do:
Preheat the oven to 350° and begin to mix 2 tablespoons of melted butter with cinnamon and brush across the entire pizza crust. Place the crust in the oven and bake for 5 minutes, or until the crust is golden brown, then allow to cool.
Meanwhile, blend together cream cheese, butter, and vanilla until it's light and fluffy. A standing mixer will save you some time, but a whisk gets the job done as well. Add in your powdered sugar and brown sugar and mix well. Next, spread your cream cheese mixture on the pizza crust. Then, add an even layer of your blueberry filling.
To really top things off (get it?) sprinkle crushed shortbread cookies over the top of the pizza. Go as heavy or as light with these as you want, they're really there just to add a little crunch. Now, dig in!
Ah, National Blueberry Month. Making July a better time for us all! To maximize your savings, be sure to download the free Basket app – never overpay for groceries again!