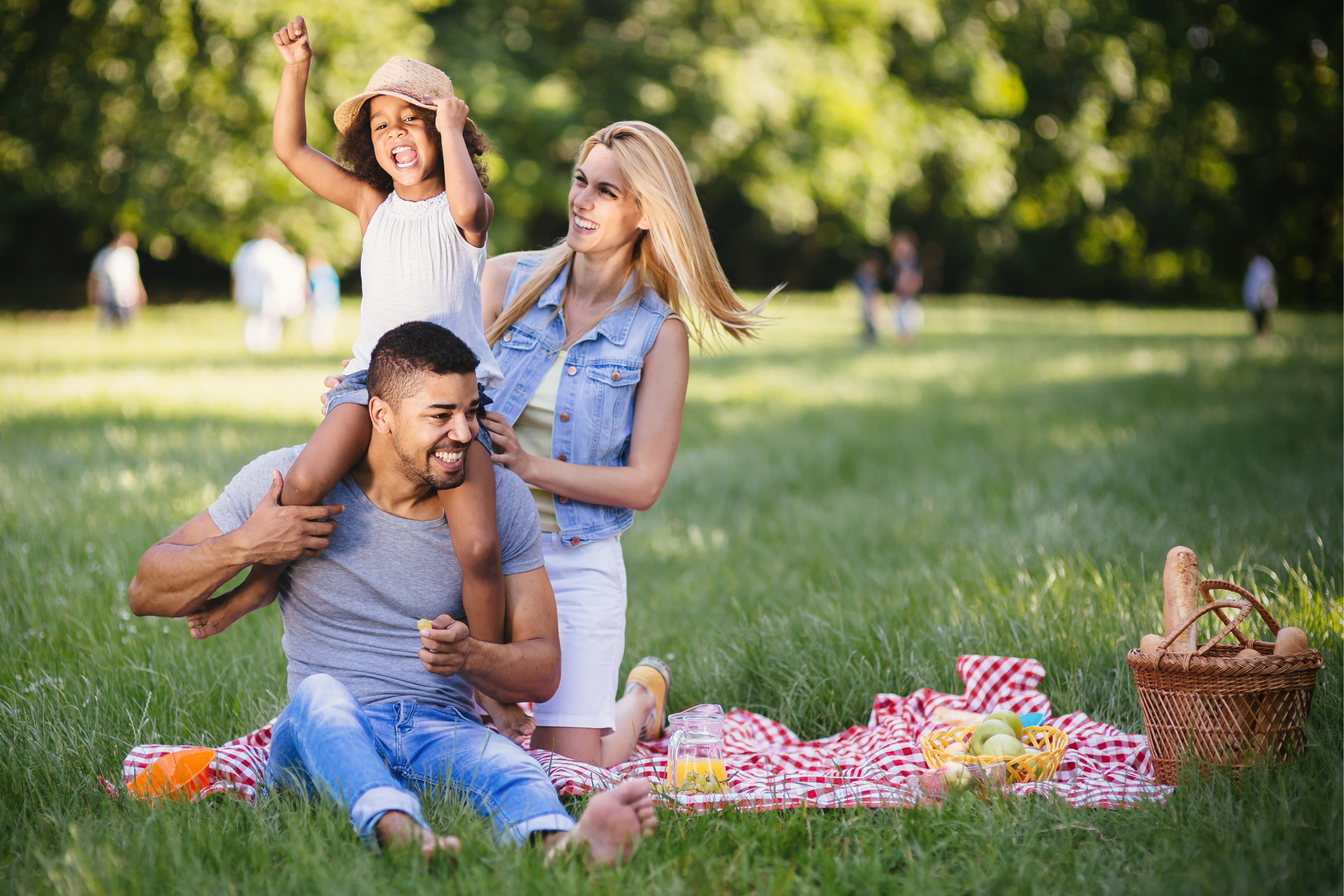 July kicks off the start of National Picnic Month. With endless amounts of sunshine, longer days, and mild nights, what better time to gather friends and family and enjoy a meal in the great outdoors? Whether you head to a local park, the beach, or even your own backyard, a picnic is the time to spread out under the sky and enjoy some tasty treats.
Where you might be lacking a dining room table outside, we guarantee you won't be lacking in laughter and delicious food. That is, if you follow our Basket-certified tips. Keep on reading for the best way to enjoy a picnic on a budget using only a few main ingredients.
1. The Beverage: Sweet Tea Lemonade
There is nothing more refreshing on a hot summer day than a tall glass of iced tea blended with lemonade. Some call these drinks Arnold Palmers, due to the American pro golfer's love for the beverage. Others call them Half-and-Halfs, because well, it's half lemonade and half iced tea.
Either way, a sweet tea-lemonade is the absolute perfect drink for a long picnic. You can make your own by mixing one part lemonade and one part iced tea, or you can always purchase a bottle from the store – many major beverage companies now manufacture this drink.
Pro Tip: Pour some of your half-and-half into an ice tray to make your own ice cubes. These will keep your drink cool without watering it down as the cubes melt. Or, freeze only lemonade as ice cubes, to gradually add more lemonade flavor as your ice melts.
2. For Snacking: Fruit and Vegetable Dippers
You didn't think we would let a post go by without mentioning something fun to do with fresh fruits and vegetables, did you? This time we're making some tasty dips. To begin, make sure you have a large container of plain Greek yogurt. We're going to be using this as a main ingredient to thicken up our dips as well as later in our sandwiches.
For your fruit dip, we're going to whip up a chocolate fruit dip (that's actually healthy!). For your dip, you'll need:
1/2 cup plain Greek yogurt
1 1/2 tablespoons honey
1 tablespoon cocoa powder (powdered hot chocolate works just as fine!)
1/4 teaspoon vanilla
Pinch of cinnamon
Vanilla can be a bit more pricey – if you don't already have some on hand, simply use a little extra honey for sweetness. Stir all ingredients together well, and seal in a Tupperware container or in a plastic-wrapped bowl. Serve with strawberries, banana, and pre-sliced pineapple for a sweet treat to start the picnic.
For your veggie dip, you won't believe how easy this recipe is: Blend 1/2 cup plain Greek yogurt with a packet of 1 oz. dry dressing mix. That's it! You can find these packets for super-low prices at most grocery stores. Chop up some celery, carrots, broccoli and even cucumbers to keep cool under the sun.
3. For the Sandwiches: Chicken and Egg Salads
To begin, pick up some hamburger buns from the store. While regular bread works fine, hamburger buns add a nice softness to a sandwich while also being incredibly portable for a picnic. Next, put your Greek yogurt to work again. We're going to be making unique chicken salad and egg salads – for options!
For a Southwest chicken salad that will have everyone asking for seconds, you'll need:
2 cups of shredded chicken
1 1/2 cup plain Greek yogurt
1 can of black beans
1 can of corn
1 can of tomatoes
1/2 teaspoon of onion powder
1 teaspoon of chili powder
1 bunch green onions (optional)
2 red or orange peppers, diced
To create this yummy salad, all you'll need to do is combine all of the ingredients in a large bowl, folding in the Greek yogurt last. Since this recipe calls for many canned ingredients, you'll be saving time and money whipping them into something delicious.
For a tasty and unique avocado egg salad, you'll need:
2 medium avocados, pitted and peeled
4 tablespoons of Greek yogurt
6 hard boiled eggs
2 tablespoons cilantro
2 teaspoons of lemon or lime juice
Salt and pepper to taste
For this salad, first mash the avocados and hard boiled eggs together, adding the cilantro as the two become more blended. Then, add in your lemon or lime juice and Greek yogurt. Add salt and pepper to taste, and enjoy!
4. For Dessert: Chocolate Chip Cookies
We thought long and hard about what would be the best option for a picnic dessert. Then we realized, what better than a classic chocolate chip cookie? Bake these the night before with the kids to build up excitement, or pick them up from the store for a quick treat. Either way, a tasty chocolate chip cookie requires no plates, forks, or napkins to enjoy. Just dive in and take a bite!
Helpful Tips for a Picnic on a Budget
Trying to stay within budget can mean you might have to make some alterations to the traditional picnic. For one, ditch the basket. (No, not the app. Never the app!) Instead, put your items into a cooler that will actually keep them fresh and cool during the day.
​If you don't have a cooler on hand, line a cardboard box with a large plastic bag. Load your cold food and drinks into the "cooler" and place ice packs on top for a chilling effect.
For easy ice packs, simply freeze a few water bottles. Not only will these keep your food cool, they also make for ice cold beverages for the car ride home.
Don't forget to pack a large sheet or blanket for everyone to sit on, and a few plastic knives to spread your salads. Toss in some reusable cups for everyone's beverages, and you're set!
This Picnic Month, don't hesitate to get outside and dine under the sky. Check Basket for the best prices on all you'll need to create a truly one-of-a-kind experience.