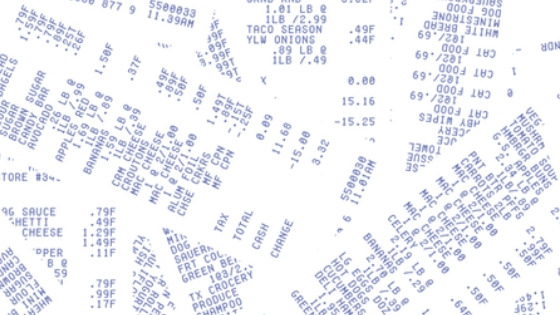 In our last post, we mentioned that between the awareness of a need and the point of sale during a typical CPG customer's journey, the point of purchase plays the largest role in a consumer's decision-making process. However, at first glance the point of purchase (POP) and the point of sale (POS) may appear very similar. If you're just getting started in the world of CPG and FMCG, these terms can even seem interchangeable.
Despite appearing to simply be synonyms for one another, POP and POS could not be more different. From the different actions that a shopper takes at each point, to the unique insights gained through syndicated data, POP and POS play completely different roles. To better understand each touch point, and how each can impact your brand, let's begin by briefly discussing retail sales data.
What Is Retail Sales Data?
Grocery product manufacturers often rely on survey research and focus groups to get in tune with how shoppers think and feel about items such as product feature preferences, packaging graphics, and so on. However, these insights reflect more about consumer preferences rather than actual consumer behavior.
For quantitative behavioral insights, CPG and FMCG brands utilize retail sales data. Retail sales data reflects what consumers are actually purchasing, providing granular insight into how purchase decisions are made at a particular moment, in specific stores, and under a particular set of market and competitive circumstances. Retail sales data is also commonly referred to as consumption data, and here, the terms are interchangeable.
Divisions of Retail Sales Data
Retail sales data is divided into four channels, based on a combination of two parameters: data source and data focus. The four channels of retail sales data include:
Retailer Direct Panel Data: Insights on buyer behavior specific to a particular retailer, ex. Kroger or Walmart.
Syndicated Panel Data: General household buying behaviors, including store and brand loyalty, purchase frequency, and demographics.
Retailer Direct Store Data: Insights on category, collaboration, and supply chain management specific to one retailer and often only your own products.
Syndicated Store Data: General insights on sales trends, price, trade promotion, competitive analysis, and distribution.
While all of the above insights are important for learning more about your consumer and how to improve sales, it's the latter in particular that aids in minimizing revenue loss, improving efficiency, and closing gaps in trade promotion execution. Syndicated store data is available for thousands of markets across hundreds of categories, and its consistency across all channels allows for easy comparison across products, retailers, and markets.
The Importance of Syndicated Store Data
Syndicated store data encompasses all channels of CPG and FMCG, from Food and Drug to Dollar, Mass, Convenience, Club, and Military. This third-party data offers brands a full view into the grocery landscape, covering brick-and-mortar retailers as well as e-commerce. For this reason, syndicated store data is often referred to as simply "market data."
Syndicated data vendors capture all products in most major categories and aggregate data to provide a detailed analysis of your category, in your key markets, and even for a specific time period. This data allows brands to examine sales trends for products, analyze adjacent categories, and determine how competitors are selling. It also allows a retailer to determine performance of a product, how the store can be improved to enhance sales, and how shopper behavior may or may not be evolving.
Why Does This Matter for the Point of Purchase?
You might be wondering what any of this data has to do with where consumers are purchasing a product. Both point of purchase and point of sale insights live under the umbrella of syndicated store data. These touch points are monitored, measured, and optimized through syndicated data.
The buying personas strategized to guide brand performance are structured by insights learned through syndicated data. And where products are placed in stores, how they're presented on the shelf, and how many quantities of each are in an aisle are dependent on syndicated store data. Essentially, syndicated store data lays a blueprint for all decisions made by product manufacturers, brands, and retailers.
The CPG and FMCG industry is fueled on syndicated store data learnings. And the point of purchase, where customers come face to face with a product for a first time – the instance dubbed the "First Moment of Truth" – is mapped out using this information.