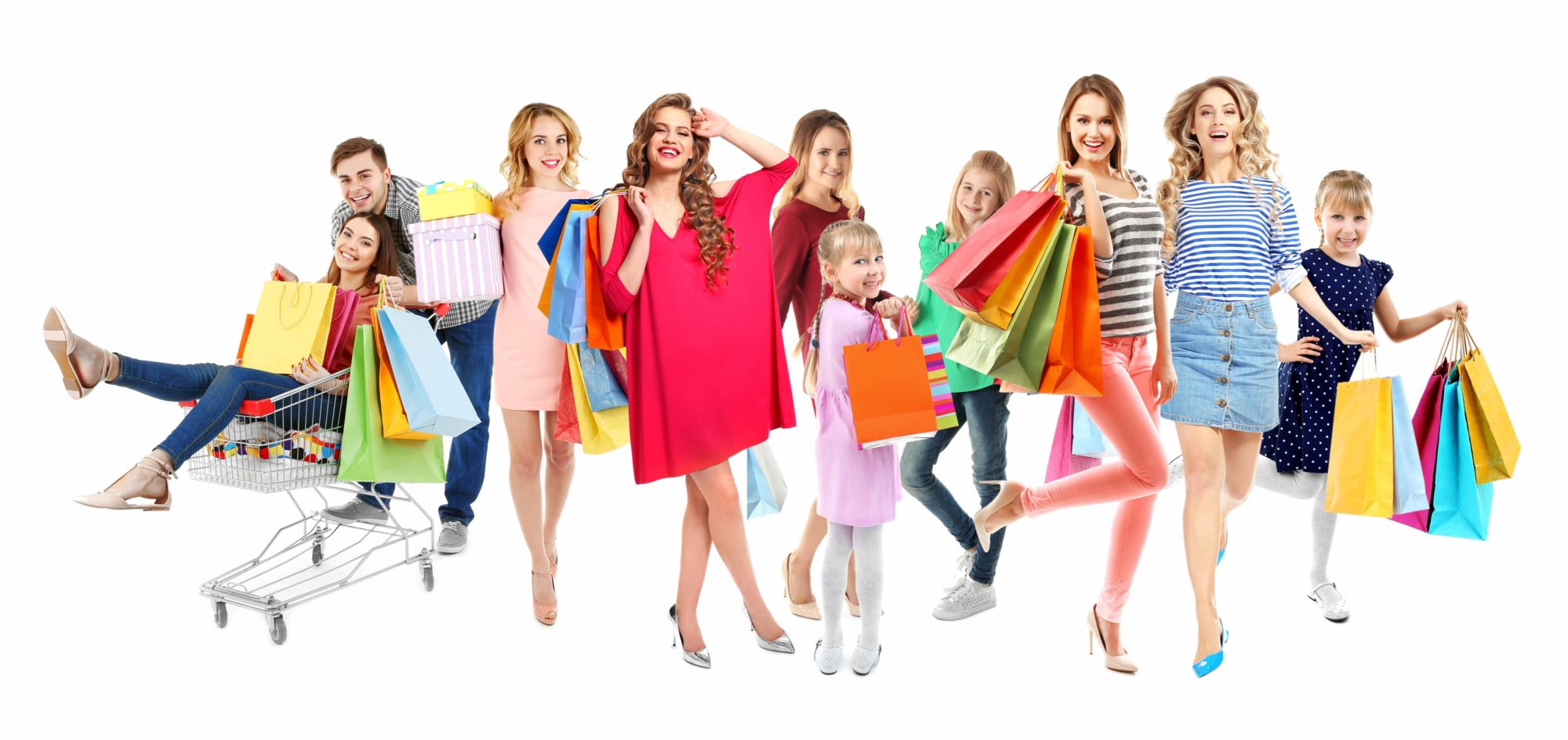 I'm sure we can all think of times of year when shopping is a downright nightmare (Black Friday, we're looking at you). However, there are lesser-known times when you'll want to stock up for the best sales.
Looking forward to scoring great deals year round? We've got you covered.
1. January
January marks the beginning of a new year, and new health resolutions. January brings serious deals on all holiday items, from candy to wrapping paper, to decorations and seasonal home decor. But, that's not all.
Diet & Fitness – Diet foods such as Healthy Choice, Lean Cuisine, and Special K. Weights, scales, exercise equipment, diet aids, and even gym memberships all experience discounts as people rush to execute their New Year's resolutions.
Seasonal Produce – Blueberries, oranges, pears, grapefruit, kiwi, cauliflower, avocado, spinach.
Winter Cold Essentials – Cough syrup, vitamins, cold medicine.
Winter White Sales – Bedding and linens.
2. February
During the month of love, don't forget about Superbowl Sunday, President's Day, and Chinese New Year to find savings.
Televisions – Watch the big game on your discounted TV.
Winter Wear – Apparel, sporting accessories, and boots.
Home Goods – President's Day kicks off sales for decor, furniture, and mattresses.
Valentine's Goodies – Chocolates, perfume, cards, stuffed animals, and gift sets.
Seasonal Produce – Artichokes, asparagus, collards, grapefruit, and kale.
3. March
Look for the Luck of the Irish as Saint Patrick's Day rolls in.
Grilling Necessities – Grills and accessories dip in price before summer hikes them back up.
St. Patrick's Accessories – Apparel, accessories, decor, and party supplies. Food such as corned beef, cabbage, and Irish soda bread are discounted.
March Madness – Snacks such as chips, dip, pretzels, wings, beverages, and pre-cut trays of food.
Seasonal Produce – Avocados, broccoli, grapes, lemons, limes, mushrooms, radishes, and strawberries.
Spring Prep – Cleaning supplies, decorations, baskets, eggs and egg dyeing kits, gift sets, and apparel.
4. April
Spring is calling and prices are falling! Holidays like Easter and Passover encourage an emergence of sales in a variety of retailers.
Holiday Essentials – Decorations, decor, toys, games, candy, chocolate, and apparel.
Earth Day – Organic and natural personal care and food products, reusable items, and Energy Star appliances.
Spring Cleaning Tools – Cleaning supplies, vacuums, gardening equipment, and organizational items.
Allergy Relief – Allergy medicine, nasal sprays, and eye drops.
Seasonal Produce – Cabbages, onions, peas, rhubarb, and strawberries.
5. May
Don't forget about Memorial Day sales to save major coin, but Mother's Day and Cinco de Mayo add some additional places to save.
Furniture – Big box stores offer serious savings on furniture and home decor for Memorial Day.
Cinco de Mayo – Snacks, beverage mixers, chips and salsa, shredded cheese, tortillas, beans, piñatas, and party accessories.
Mother's Day – Gift sets, perfume, chocolate, jewelry, and bouquets.
Memorial Day – Condiments such as BBQ sauce and ketchup, snacks, chips and dip, paper plates, and plastic utensils.
Summer Essentials – Suncreen, outdoor furniture and decor, beach toys, and insect repellent.
Seasonal Produce – Blackberries, green beans, peas in the pod, potatoes, raspberries, and strawberries.
6. June
National Dairy Month and a peak in seasonal fruits? Sign us up for savings.
Seasonal Produce – Apricots, blackberries, blueberries, boysenberries, cherries, corn, cucumbers, eggplant, grapes, honeydew, and summer squash.
National Dairy Month – Milk, ice cream, cheese, butter, and yogurt.
Clearance Steals – Remaining cold weather apparel.
Fourth of July Prep – Hot dogs, hamburgers, buns, condiments, snacks, chips and dip, frozen treats, and beverages begin to go on sale before the big day.
Summer Essentials – Sunblock, summer apparel, beach toys, swim wear, and insect repellent.
7. July
While the kids might be dreading going back to school, the sales that are piling up beg to differ. Plus, say hello to the Fourth of July grocery steals.
School Supplies – Backpacks, binders, notebooks, pencils, and crayons.
Fourth of July – Hot dogs, hamburgers, buns, condiments, snacks, chips and dip, frozen treats, and beverages.
National Ice Cream Month – Frozen treats, ice cream, and popsicles.
Seasonal Produce – Asian pears, blueberries, corn, cucumbers, eggplant, figs, garlic, peaches, sweet bell peppers, plums, tomatoes, and watermelon.
8. August
School essentials continue to go on sale as classroom necessities join the party. End of summer sales are beginning to creep in.
School Supplies – Backpacks, binders, notebooks, pencils, crayons, and new school clothes.
Tax Holidays – Though not offered in every state, this is an awesome time to stock up on clothing, school supplies, books, and even computers. Ranging from 2-7 days, tax holidays implement a temporary reduction or elimination of a tax.
Classroom Necessities – Notecards, USB drives, tissue boxes, markers, and disinfectants such as Clorox and Lysol wipes.
School Lunch Staples – Single serve beverages, lunch meat, Lunchables, and pudding cups.
Seasonal Produce – Berries, cherries, corn, eggplant, figs, melons, summer squash, tomatillos, tomatoes, and watermelon.
9. September
Ah, September. The safe space before holidays items start invading shelves nationwide. Labor Day sales can mean big savings if you play your cards right.
Summer Clearance – BBQ supplies, camping gear, gardening gear, insect repellent, and sunblock.
Labor Day – Shoes and apparel, travel and event discounts, party supplies, and snacks.
Mattress Palooza – September is notorious for mattress deals. This is a great time to shop.
Seasonal Produce – Apples, beans, brussel sprouts, grapes, onions, and squash.
10. October
Stock up on deals this spooky time of year!
Halloween Necessities – Candy, costumes, decor, and party supplies.
Baking Essentials – Pie crust, canned pumpkin, baking chips, and cookie dough.
Remaining Summer Stock – Swimwear, beach items, camping gear, and outdoor furniture.
Seasonal Produce – Apples, arugula, beets, chard, cranberries, parsnip, pomegranates, potatoes, sweet potatoes, pumpkins, and winter squash.
11. November
Nothing like the time of the year where we show thanks for what we have to also rush to the store, still chewing, to claim our savings on new items.
Baking Necessities – Cake and brownie mixes, nuts, chocolate chips, sweetened condensed milk, and shredded coconut.
Seasonal Produce – Apples, beets, broccoli, carrots, celery, cranberries, kiwis, lemons, oranges, pears, potatoes, pumpkin, squash, and yams.
Thanksgiving Menu Items – Broth, canned vegetables & fruits, turkeys, and assorted pies.
End of the Year Cold Prevention – Cold medicine, Nyquil, Tylenol Cold & Flu, tissues, and cough drops.
Electronics – Tablets, laptops, smartphones, activity trackers, televisions, speaker systems, gaming systems, and consoles.
Home appliances – Refrigerators, washers and dryers, dishwashers, and cookware, such as flatware, knives, pots, and pans.
12. December
The most wonderful time of the year! Sales begin before the month even starts and follow through for the rest of December. It will be impossible to avoid sales during the month, but, that's a good thing!
Toys and Electronics – With the holidays rapidly approaching, most children's toys and goods will go on sale.
Holiday Dinner Items – Dinner rolls, hams, deli platters, assorted pies, and beverages, such as eggnog, sparkling cider, and sodas.
Clearance Galore – You'll still be finding Halloween decorations shoved in a corner somewhere, most likely at a fraction of the price. Thanksgiving decor can be found discounted as well.
Jewelry – The no-brainer gift.
Seasonal Produce – Bok choy, cabbages, carrots, cauliflower, celery, kale, leeks, and mushrooms.
Baking Essentials – Cake and brownie mixes, muffin mixes, pie crust, marshmallows, flour and sugar.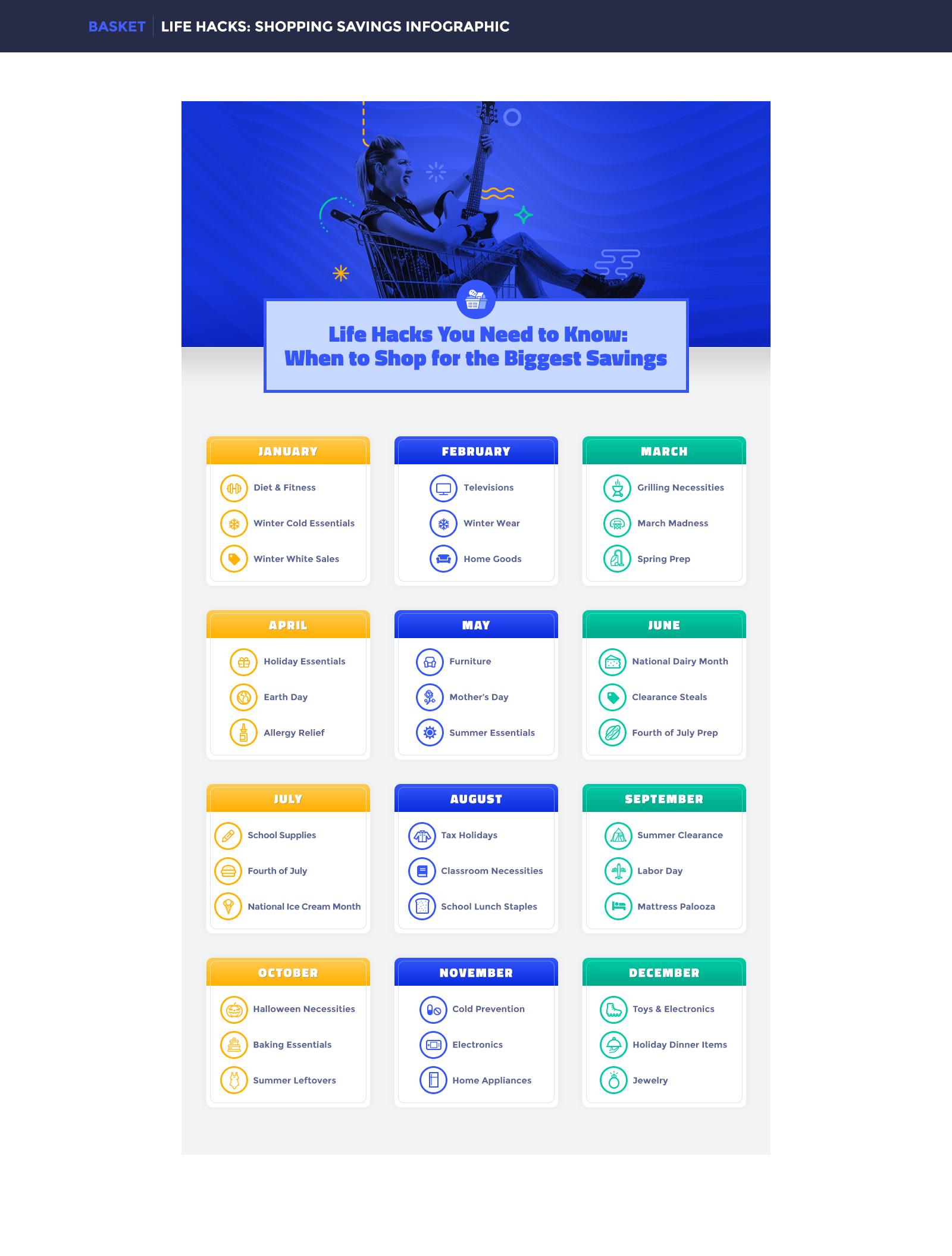 What time of year are you looking forward to most? Whenever you're planning to shop, know that savings are always close by.