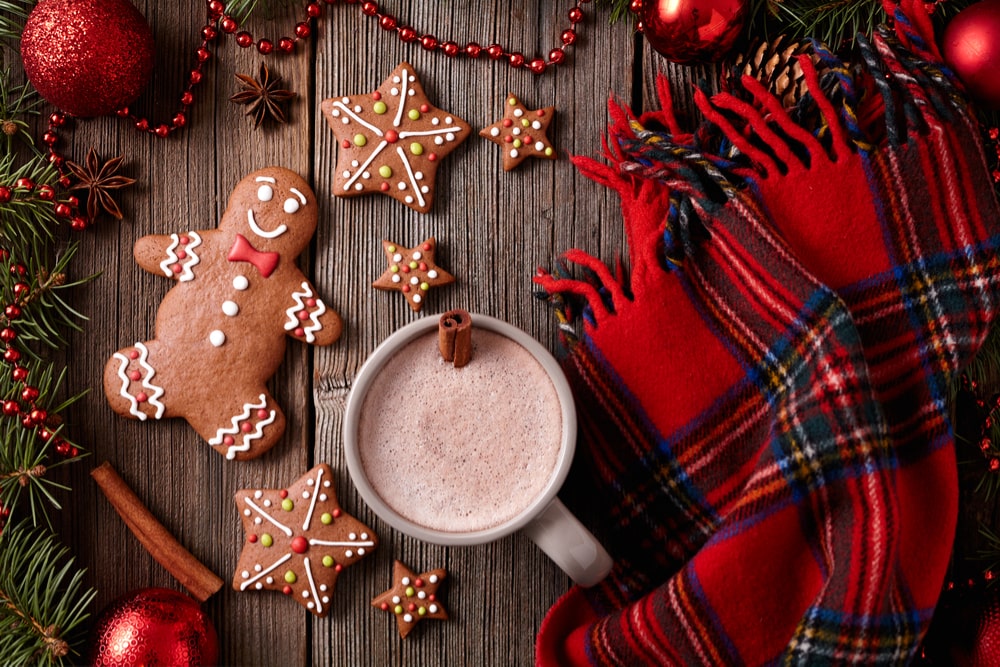 Drinking hot cocoa next to the Christmas tree in your favorite pajamas. Lighting the menorah while the rugelach bakes. Building a gingerbread house while sipping on warm mulled wine. Even the thought of these cozy flavors warms you from the inside out.
As the temperature drops nationwide, our favorite foods become warmer, spicier, and more comforting. Delicious winter recipes are as simple as adding seasonal flavors to spruce up your favorite dishes. To get the taste of winter in your cooking this season, follow these simple tips and tricks for achieving that wintertime warmth.
Nutmeg, Cinnamon, and Allspice
Fragrant spices like nutmeg or allspice can be intimidating. But to the surprise of many, nutmeg is not just for eggnog (though it is really good in eggnog). Today, you'll be using nutmeg, cinnamon, and even allspice to make one of the easiest and most season-appropriate winter recipes.
We're talking about cinnamon and nutmeg roasted chicken with a side of apple and pecan stuffed sweet potatoes. Update your usual roast and potatoes with this mouth-watering seasonal dish that you'll be craving all year long.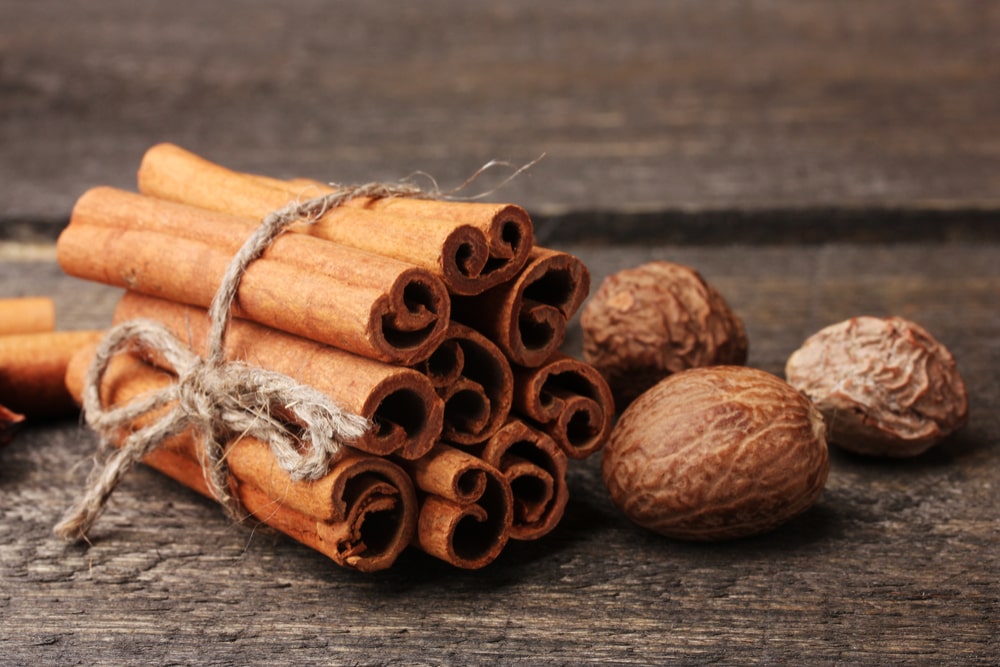 What You Need for Cinnamon and Nutmeg Chicken:
1 teaspoon salt
1 whole chicken
2 teaspoons sugar
1 small onion, minced
2 teaspoons dried thyme
1⁄2 teaspoon ground nutmeg
1/4 teaspoon ground allspice
1⁄2 teaspoon ground cinnamon
What to Do:
Begin by preheating the oven to 350°F and coating a roasting pan with nonstick cooking spray. In a small bowl, combine salt, sugar, cinnamon, nutmeg, allspice, onion, and dried thyme, and mix well. Place chicken in the pan and rub generously with the seasoning mixture. Bake for 60 to 90 minutes or until the internal temperature of the chicken reaches 165°F.
What You Need for Apple and Pecan Stuffed Sweet Potatoes:
1/4 cup butter
1/4 cup golden raisins
1/4 teaspoon ground nutmeg
4 medium sweet potatoes
1/2 teaspoon ground cinnamon
3/4 cup coarsely chopped pecans
1/2 cup firmly packed brown sugar
1 large Rome Beauty apple, chopped
What to Do:
Preheat the oven to 425°F and place potatoes on a baking sheet lined with aluminum foil. Bake for 1 hour and 15 minutes, or until tender. While the potatoes bake, begin heating the pecans in a nonstick skillet over medium-low heat. Stir often for 5 to 7 minutes, or until toasted, then remove from the skillet.
Next, increase the temperature to medium-high heat and melt butter in the skillet. Add chopped apple and raisins, and saute for 2 to 3 minutes or until the apple becomes tender. Stir in nutmeg, cinnamon, and sugar, and remove from heat.
Once the potatoes are tender, remove from the oven and cut in half lengthwise. Scoop pulp into a large bowl, leaving the skin intact. Add apple and raisin mixture to the bowl of pulp, and stir until well blended. Then, spoon the mixture back into the shells and place onto a baking sheet.
Finally, bake at 350°F for another 15 to 20 minutes. Top with toasted pecans and enjoy hot.
Maple and Caramel
Nothing says 'winter recipe' quite like warm maple and creamy caramel. But here at Basket, we're ones to defy the norms a bit. So we're putting a smoky, chewy twist on these classic wintertime flavors. Here's the deal: Maple Caramel Bacon Bark. This delicious treat is sure to warm up your night! Let's get started.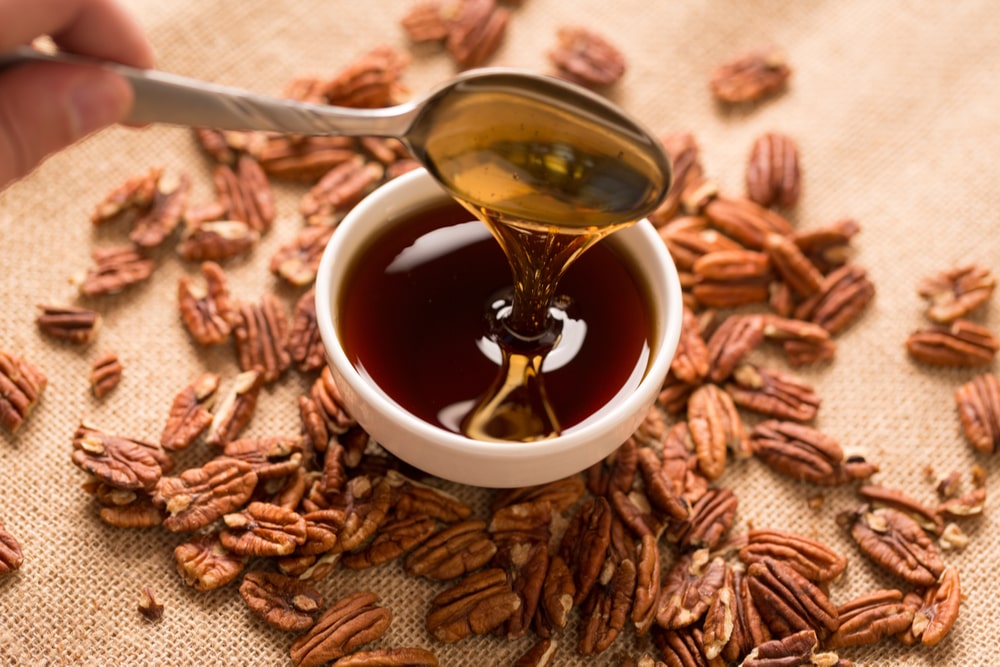 What You Need for Maple Caramel Bacon Bark:
Cooking spray
Parchment paper
1/4 cup maple syrup
3/4 cup brown sugar
1 tube crescent rolls
10 slices bacon, chopped
What to Do:
To start this recipe, preheat the oven to 325°F and line a rimmed baking sheet with parchment paper, preferably 15×10 in size. Next, lightly grease the parchment paper with cooking spray to ensure nothing sticks.
Once the parchment paper is greased, unroll the crescent rolls and pinch any perforations together to seal them, creating one large sheet of dough. Stretch the dough to fit the pan, patting as you go so that everything is even.
While you get your dough ready, cook your bacon. The trick here is to not let it get too crispy yet, as it will continue to cook once you place it in the oven. Cook until it's reached a medium-pink color and fat begins to bubble, and place on a paper towel-lined plate to blot away any excess grease.
Once that's done, drizzle your maple syrup over the crescent roll dough and sprinkle with roughly 1/4 cup of brown sugar. Dice bacon into bite-sized pieces and add on top. Drizzle any remaining maple syrup on top of the bacon pieces, and finish with the remaining brown sugar. Next, bake for approximately 25 minutes or until bubbling and caramelized.
Remove from the oven and allow to cool before cutting or breaking into pieces. Enjoy!
Peppermint and White Chocolate
We love the classic combination of peppermint and white chocolate. Alone, these flavors are the perfect addition to coffee or hot chocolate. But together, the possibilities for snacks are endless. Our personal favorite winter recipe using peppermint and white chocolate? Holiday Popcorn.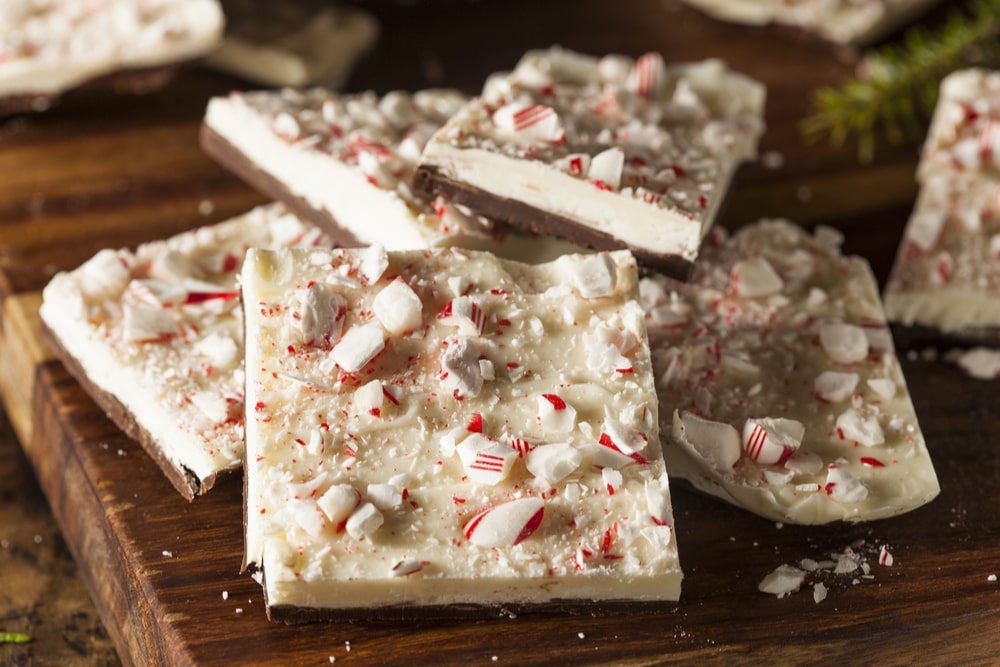 What You Need for Holiday Popcorn:
Parchment Paper
1 bag Kettle Corn
1 teaspoon Canola oil
15 White Chocolate Candy Kisses (Candy Cane flavored)
What to Do:
Begin by popping your bag of kettle corn and pouring into a large bowl. Next, place 10 of your candy kisses and 1 teaspoon canola oil in a microwave safe bowl. Microwave on high for 60 seconds, stopping once at 30 seconds to stir.
Pour the melted kisses over the kettle corn and stir well. Then, spread the white chocolate peppermint popcorn over parchment paper and let cool for 5 to 7 minutes. Place the remaining 5 candy kisses in a Ziploc bag and gently pound to crush them. Once the popcorn has cooled, sprinkle the crushed kisses and mix gently.
Be sure to break apart any pieces which are stuck together, and serve. While this is best eaten fresh, this easy winter recipe stays tasty up to a week.
Who's ready to enjoy all of the delicious flavors that winter has to offer? By incorporating classic winter flavors like cinnamon, maple, peppermint, and nutmeg, you can turn any dish into a seasonally appropriate masterpiece. Enjoy, and stay warm out there!
Who said you couldn't enjoy your favorite seasonal flavors and not save on groceries? Saving on groceries has never been easier, by using simple ingredients and pantry staples. Plus, when you're using a grocery price comparison tool like the free Basket app, saving on groceries is as easy as plugging the ingredients you need into your smartphone and letting us do the rest.